Ah, Valentine's Day. You're back again.
Some people greet this holiday with gushing warmth and enthusiasm. Others prefer to ignore it. Meanwhile on Valentine's Day, like on every other day of the year, librarians just want to read something good.
Here's our pick of books we love.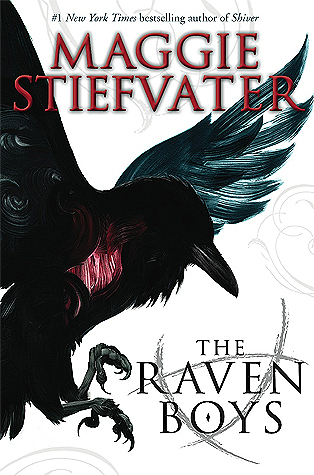 Raven Boys by Maggie Steifvater
Available at Chester
*Recommended by Lauren
"It is freezing in the churchyard, even before the dead arrive.
Every year, Blue Sargent stands next to her clairvoyant mother as the soon-to-be dead walk past. Blue herself never sees them—not until this year, when a boy emerges from the dark and speaks directly to her.
His name is Gansey, and Blue soon discovers that he is a rich student at Aglionby, the local private school. Blue has a policy of staying away from Aglionby boys. Known as Raven Boys, they can only mean trouble.
For as long as she can remember, Blue has been warned that she will cause her true love to die. She never thought this would be a problem. But now, as her life becomes caught up in the strange and sinister world of the Raven Boys, she's not so sure anymore" – from goodreads.com
Beastie Boys Book by Michael Diamond & Adam Horovitz
Available at Midlothian
*Recommended by Bobby
"With a style as distinctive and eclectic as a Beastie Boys album, Beastie Boys Book upends the typical music memoir. Alongside the band narrative you will find rare photos, original illustrations, a cookbook by chef Roy Choi, a graphic novel, a map of Beastie Boys' New York, mixtape playlists, pieces by guest contributors, and many more surprises." – from goodreads.com
Brief Answers to the Big Questions by Stephen Hawking
Available at Midlothian
*Recommended by Molli
"Stephen Hawking was the most renowned scientist since Einstein, known both for his groundbreaking work in physics and cosmology and for his mischievous sense of humor. He educated millions of readers about the origins of the universe and the nature of black holes, and inspired millions more by defying a terrifying early prognosis of ALS, which originally gave him only two years to live. In later life he could communicate only by using a few facial muscles, but he continued to advance his field and serve as a revered voice on social and humanitarian issues.
Hawking not only unraveled some of the universe's greatest mysteries but also believed science plays a critical role in fixing problems here on Earth. Now, as we face immense challenges on our planet—including climate change, the threat of nuclear war, and the development of artificial intelligence—he turns his attention to the most urgent issues facing us." – from goodreads.com
A Spool of Blue Thread by Anne Tyler
Available at Midlothian & Chester
*Recommended by Drury
"The Whitshanks are one of those families that radiate togetherness: an indefinable, enviable kind of specialness. But they are also like all families, in that the stories they tell themselves reveal only part of the picture. Abby and Red and their four grown children have accumulated not only tender moments, laughter, and celebrations, but also jealousies, disappointments, and carefully guarded secrets. from Red's father and mother, newly-arrived in Baltimore in the 1920s, to Abby and Red's grandchildren carrying the family legacy boisterously into the twenty-first century, here are four generations of Whitshanks, their lives unfolding in and around the sprawling, lovingly worn Baltimore house that has always been their anchor." – from goodreads.com
Persepolis by Marjane Satrapi
Available at Midlothian & Chester
*Recommended by Megan
"Persepolis is the story of Satrapi's unforgettable childhood and coming of age within a large and loving family in Tehran during the Islamic Revolution; of the contradictions between private life and public life in a country plagued by political upheaval; of her high school years in Vienna facing the trials of adolescence far from her family; of her homecoming–both sweet and terrible; and, finally, of her self-imposed exile from her beloved homeland. It is the chronicle of a girlhood and adolescence at once outrageous and familiar, a young life entwined with the history of her country yet filled with the universal trials and joys of growing up." – from goodreads.com