John Tyler Chester campus will be showing the film Hidden Figures this Friday, September 8, in the Nicholas Student Center. The inspiring movie finds it source material in the book Hidden Figures by Margot Lee Shetterly. A New York Times bestseller, this non-fiction book detailed the lives and careers of mathematician Katherine Johnson, engineer Mary Jackson, and early computer programmer Dorothy Vaughan as they work at Langley Air Base.

A growing number of jobs rely on the sciences fields as technology becomes a greater part of our everyday lives. Although grouped together, STEM-H (science, technology, engineering, mathematics, & healthcare) represents a broad variety of career fields: medicine, nursing, biology, chemistry, engineering, physics, architecture, information technologies, data analysis, mathematics, accounting, psychology, and environmental sciences. But that is just a sampling of STEM's many different facets. If you are curious about STEM careers, get your questions answered at this Friday, September 8. Dr. Charlene Crawley from VCU's Chemistry Department will speak on "The Path Forward: Pursuing Your Dreams in STEM" before the film presentation of Hidden Figures.
To set the spirit, here is some STEM-related reading:
Hidden Figures: the American Dream & the Untold Story of the Black Women Mathematicians who Helped Win the Space Race
by Margot Lee Shetterly
Available at Chester & Midlothian
QA27 .5 .L44 2016

from goodreads.com
Before John Glenn orbited the Earth or Neil Armstrong walked on the moon, a group of dedicated female mathematicians known as "human computers" used pencils, slide rules, and adding machines to calculate the numbers that would launch rockets and astronauts into space.
Among these problem solvers were a group of exceptionally talented African American women, some of the brightest minds of their generation. Originally relegated to teaching math in the South's segregated public schools, they were called into service during the labor shortages of World War II, when America's aeronautics industry was in dire need of anyone who had the right stuff. Suddenly these overlooked math whizzes had shots at jobs worthy of their skills, and they answered Uncle Sam's call, moving to Hampton, Virginia, and the fascinating, high-energy world of the Langley Memorial Aeronautical Laboratory.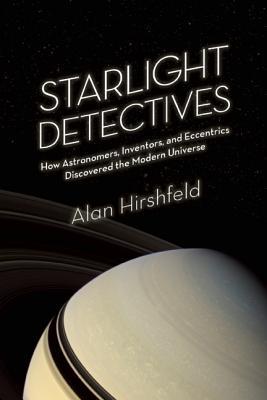 Starlight Detectives: How Astronomers, Inventors, & Eccentrics Discovered the Modern Universe
by Alan Hirshfeld
Available at Midlothian
QB32 .H57 2014

from goodreads.com
In 1930, Edwin Hubble announced the greatest discovery in the history of astronomy since Galileo first turned a telescope to the heavens. The galaxies, previously believed to float serenely in the void, are in fact hurtling apart at an incredible speed; the universe is expanding. This stunning discovery was the culmination of a decades-long arc of scientific and technical advancement. In its shadow lies an untold, yet equally fascinating, backstory whose cast of characters illuminates the gritty, hard-won nature of scientific progress.
Astrophysics for People in a Hurry
by Neil DeGrasse Tyson
Available at Chester & Midlothian
QB461 .T97 2017
from goodreads.com
What is the nature of space and time? How do we fit within the universe? How does the universe fit within us? There's no better guide through these mind-expanding questions than acclaimed astrophysicist and best-selling author Neil deGrasse Tyson.
But today, few of us have time to contemplate the cosmos. So Tyson brings the universe down to Earth succinctly and clearly, with sparkling wit, in tasty chapters consumable anytime and anywhere in your busy day.
The Gene: an Intimate History
by Siddhartha Mukherjee
Available at Chester & Midlothian
RB155 .M85 2016
from goodreads.com
Siddhartha Mukherjee has a written a biography of the gene as deft, brilliant, and illuminating as his extraordinarily successful biography of cancer. Weaving science, social history, and personal narrative to tell us the story of one of the most important conceptual breakthroughs of modern times, Mukherjee animates the quest to understand human heredity and its surprising influence on our lives, personalities, identities, fates, and choices.
Throughout the narrative, the story of Mukherjee's own family—with its tragic and bewildering history of mental illness—cuts like a bright, red line, reminding us of the many questions that hang over our ability to translate the science of genetics from the laboratory to the real world. In superb prose and with an instinct for the dramatic scene, he describes the centuries of research and experimentation—from Aristotle and Pythagoras to Mendel and Darwin, from Boveri and Morgan to Crick, Watson and Franklin, all the way through the revolutionary twenty-first century innovators who mapped the human genome.
The Brothers Vonnegut: Science & Fiction in the House of Magic
by Ginger Strand
Available at Midlothian
PS3572 .O5 Z858 2015

from goodreads.com
In the mid-1950s, Kurt Vonnegut takes a job in the PR department at General Electric in Schenectady, where his older brother, Bernard, is a leading scientist in its research lab–or "House of Magic." Kurt has ambitions as a novelist, and Bernard is working on a series of cutting-edge weather-control experiments meant to make deserts bloom and farmers flourish.
While Kurt writes zippy press releases, Bernard builds silver-iodide generators and attacks clouds with dry ice. His experiments attract the attention of the government; weather proved a decisive factor in World War II, and if the military can control the clouds, fog, and snow, they can fly more bombing missions. Maybe weather will even be the "New Super Weapon." But when the army takes charge of his cloud-seeding project (dubbed Project Cirrus), Bernard begins to have misgivings about the harmful uses of his inventions, not to mention the evidence that they are causing alarming changes in the atmosphere.
In a fascinating cultural history, Ginger Strand chronicles the intersection of these brothers' lives at a time when the possibilities of science seemed infinite. As the Cold War looms, Bernard's struggle for integrity plays out in Kurt's evolving writing style. The Brothers Vonnegut reveals how science's ability to influence the natural world also influenced one of our most inventive novelists.