The upcoming storm may give us several days of heavy rain. You have your gallons of water, your extra batteries, your loaf of bread. Do you have your hurricane reading picked out yet?
Stop by the library to stock up. We never run out of books.
Here are a few stormy selections:
Strange Weather by Joe Hill
Chester & Midlothian Popular Fiction
Description from goodreads.com
"A collection of four chilling novels, ingeniously wrought gems of terror from the brilliantly imaginative, #1 New York Times bestselling author of The Fireman, Joe Hill.
"Snapshot" is the disturbing story of a Silicon Valley adolescent who finds himself threatened by "The Phoenician," a tattooed thug who possesses a Polaroid Instant Camera that erases memories, snap by snap.
A young man takes to the skies to experience his first parachute jump. . . and winds up a castaway on an impossibly solid cloud, a Prospero's island of roiling vapor that seems animated by a mind of its own in "Aloft."
On a seemingly ordinary day in Boulder, Colorado, the clouds open up in a downpour of nails—splinters of bright crystal that shred the skin of anyone not safely under cover. "Rain" explores this escalating apocalyptic event, as the deluge of nails spreads out across the country and around the world.
In "Loaded," a mall security guard in a coastal Florida town courageously stops a mass shooting and becomes a hero to the modern gun rights movement. But under the glare of the spotlights, his story begins to unravel, taking his sanity with it. When an out-of-control summer blaze approaches the town, he will reach for the gun again and embark on one last day of reckoning."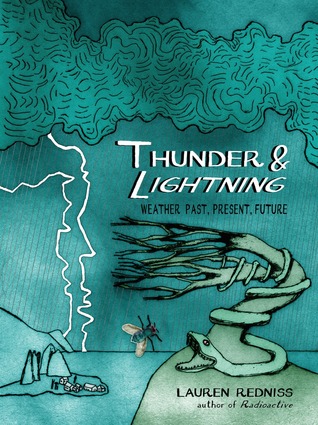 Thunder & Lightning: Weather Past, Present, & Future by Lauren Redniss
Midlothian Graphic Novel QC981.2 .R44 2015
Description from goodreads.com
"Weather is the very air we breathe—it shapes our daily lives and alters the course of history. In Thunder & Lightning, Lauren Redniss tells the story of weather and humankind through the ages.
This wide-ranging work roams from the driest desert on earth to a frigid island in the Arctic, from the Biblical flood to the defeat of the Spanish Armada. Redniss visits the headquarters of the National Weather Service, recounts top-secret rainmaking operations during the Vietnam War, and examines the economic impact of disasters like Hurricane Katrina. Drawing on extensive research and countless interviews, she examines our own day and age, from our most personal decisions—Do I need an umbrella today?—to the awesome challenges we face with global climate change.
Redniss produced each element of Thunder & Lightning: the text, the artwork, the covers, and every page in between. She created many of the images using the antiquated printmaking technique copper plate photogravure etching. She even designed the book's typeface."
A Storm of Swords: a Fire & Ice Novel by George R. R. Martin
Chester & Midlothian Popular Fiction
Description from goodreads.com
"Of the five contenders for power, one is dead, another in disfavor, and still the wars rage as alliances are made and broken. Joffrey sits on the Iron Throne, the uneasy ruler of the Seven Kingdoms. His most bitter rival, Lord Stannis, stands defeated and disgraced, victim of the sorceress who holds him in her thrall. Young Robb still rules the North from the fortress of Riverrun. Meanwhile, making her way across a blood-drenched continent is the exiled queen, Daenerys, mistress of the only three dragons still left in the world. And as opposing forces maneuver for the final showdown, an army of barbaric wildlings arrives from the outermost limits of civilization, accompanied by a horde of mythical Others—a supernatural army of the living dead whose animated corpses are unstoppable. As the future of the land hangs in the balance, no one will rest until the Seven Kingdoms have exploded in a veritable storm of swords."