Thomas More wrote a famous book championing social reform called Utopia–meaning "no place." He describes an idyllic community where everyone had a place and a purpose and lived harmoniously with each other. Dystopias are often the opposite. A dystopia may describe a world that seems idyllic but harbors some dark secret. Or it may describe a world fundamentally altered from our own because of an apocalypse. The hallmark of a dystopia is a world that in order to maintain order and balance sacrifices some key aspect of its humanity. The hero of a dystopia knowledge generally goes on a journey to solve a physical or moral dilemma caused by the strictures of his/her dystopic world. The settings of dystopias are often complex creations by their authors and may reflect a certain era or culture from our own real world. Plus, good dystopias are awesome to read. Between classic dystopian titles like 1984 by George Orwell and popular fiction like The Hunger Games, there is no shortage of exciting, thought-provoking dystopias to read this summer. Add a little dystopia to your diet with these defiant titles.
American War by Omar el Akkad
Midlothian Popular Reading
"Sarat Chestnut, born in Louisiana, is only six when the Second American Civil War breaks out in 2074. But even she knows that oil is outlawed, that Louisiana is half underwater, and that unmanned drones fill the sky. When her father is killed and her family is forced into Camp Patience for displaced persons, she begins to grow up shaped by her particular time and place. But not everyone at Camp Patience is who they claim to be. Eventually Sarat is befriended by a mysterious functionary, under whose influence she is turned into a deadly instrument of war. The decisions that she makes will have tremendous consequences not just for Sarat but for her family and her country, rippling through generations of strangers and kin alike." – from goodreads.com
An Ember in the Ashes by Sabaa Tahir
Midlothian Science Fiction/Fantasy
"Under the Martial Empire, defiance is met with death. Those who do not vow their blood and bodies to the Emperor risk the execution of their loved ones and the destruction of all they hold dear.
It is in this brutal world, inspired by ancient Rome, that Laia lives with her grandparents and older brother. The family ekes out an existence in the Empire's impoverished backstreets. They do not challenge the Empire. They've seen what happens to those who do.
But when Laia's brother is arrested for treason, Laia is forced to make a decision. In exchange for help from rebels who promise to rescue her brother, she will risk her life to spy for them from within the Empire's greatest military academy.
There, Laia meets Elias, the school's finest soldier—and secretly, its most unwilling. Elias wants only to be free of the tyranny he's being trained to enforce. He and Laia will soon realize that their destinies are intertwined—and that their choices will change the fate of the Empire itself." – from goodreads.com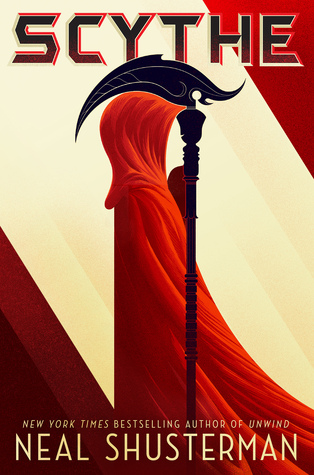 Scythe by Neal Shusterman
Midlothian & Chester Science Fiction/Fantasy
"A world with no hunger, no disease, no war, no misery. Humanity has conquered all those things, and has even conquered death. Now scythes are the only ones who can end life—and they are commanded to do so, in order to keep the size of the population under control.
Citra and Rowan are chosen to apprentice to a scythe—a role that neither wants. These teens must master the "art" of taking life, knowing that the consequence of failure could mean losing their own." – from goodreads.com